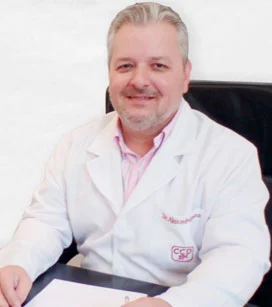 Dr. Alexandre Barbosa
Specialty: Plastic Surgeon
Procedures: Blepharoplasty bichectomy Otoplasty Rhinoplasty rhytidoplasty mentoplasty Liposuction Reduction Mammaplasty Mastopexy gynecomastia abdominoplasty Gluteoplasty Dermolipectomy of Thighs Brachioplasty Breast Prosthesis.
Professional qualifications
Dr.Alexandre Barbosa graduated in Medicine at PUC Campinas, in 1991. He did his residency in General and plastic Surgery at Hospital Beneficência portuguesa of São Paulo and became a specialist in plastic surgery in 1996.
He is today, a co-owner of "Clínica de cirurgia plástica de São Paulo ".(Plastic surgery clinic of São Paulo).
Known for his passion for Medicine and Plastic surgery,he turned his profession into pleasure, one in which he practices the art of upgrading the unique beauty of each person.
Start now. Make the dream of undergoing your surgery in safe conditions come true with the support of our team and the assistance of our specialized professionals in medical tourism.
With Medical Travel Brazil, your trip will be a unique experience towards a new life!
Clínica de Cirurgia Plástica de São Paulo – CCPSP
R. Bento de Andrade, 540 – Jardim Paulista, São Paulo – SP