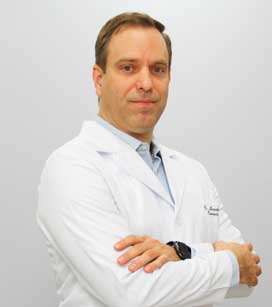 Dr. Leandro Peradin de Castro
Specialty: Gastroenterologist/Digestive System Surgeon
Procedures: Gastroplasty/Bariatric surgery, Cholecystectomy, Gastroesophageal Reflux/Hiatric Hernia, Inguinal Hernia, Incisional Hernia and Umbilical Hernia.
Professional qualifications
Graduated
in Medicine at Universidade Vale do Sapucaí – 2004

Postgraduate
degree in Digestive System Surgery by Benemérita Associação Portuguesa de
Beneficência.

Specialist title in Digestive Tract Surgery by Colégio Brasileiro de Cirurgia Digestiva.



Hospitals where the service is provided:
Dr. Leandro joined Dr. Luiz de Castro in 2004. Both have shared their knowledge to further the study of obesity, improving surgical techniques and making Instituto Castro a reference in the treatment of obesity in its multiples degrees.
Start now. Make the dream of undergoing your surgery in safe conditions come true with the support of our team and the assistance of our specialized professionals in medical tourism.
With Medical Travel Brazil, your trip will be a unique experience towards a new life!
Laparoscopic Sleeve Gastrectomy
Dr. Leandro Paradin
This video shows how we take care of all details in preparation for the Laparoscopic Sleeve Gastrectomy. Dr. Leandro Paradin and his medical team have accumulated skills and competences after several years of experience and surgeries performed. in addition, they use state-of-the-art equipment.
Choosing bariatric surgery was definitely the best decision I made in my life. The only regret is not having done it before. I am living something that I never imagined I would be able to. The dietary restriction was never a problem as I prepared myself over 10 months for that moment and I was convinced that this "sacrifice" would be rewarding. And it has been.

I have a wonderful team that welcomed me and showed me how the path should be trodden.
Discovering that obesity is a chronic disease and that surgery is simply a part of the treatment changed my outlook, my eating behavior and my future perspective on life.
I'm really grateful to God for the team he's set to help me.
My name is Liliane. I am now 57 years old and 3 years and 4 months ago I had my bariatric surgery (sleeve) at Instituto Castro. The result was amazing, with a weight reduction of 50 kg. The Institute has a highly competent multidisciplinary team and the surgeons are highly qualified. The result was so impressive that, after a while, my whole family – husband and children – decided to also undergo the surgery, and, like me, they are happy and healthy."