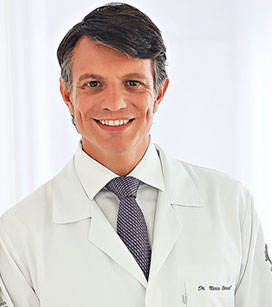 Dr. Marco Cassol
Specialty: Plastic Surgeon
Procedures: Silicone prosthesis, reduction mammaplasty, augmentation mammoplasty, male gynecomastia, breast lift, mastopexy, abdominoplasty, liposuction, intimate surgery, gluteoplasty, cervicoplasty, dermolipectomy, Bichectomy, Rhinoplasty, Blepharoplasty, Mentoplasty, Face Lift, Macrotia and Otoplasty
Professional qualifications
Graduated in Medicine at the Federal University of Rio Grande do Sul. Since  2006, Dr. Marco Cassol  has performed several procedures in aesthetic plastic surgery, highlighting breast implants, liposculpture, biceps implants in São Paulo, but his great passion is facial surgery (rhytidoplasty or facelift).
Hospitals where the service is provided:
Dr. Cassol loves to talk before any recommendation, so he can find the right connection to propose changes for the patient to establish a full state.
Start now. Make the dream of undergoing your surgery in safe conditions come true with the support of our team and the assistance of our specialized professionals in medical tourism.
With Medical Travel Brazil, your trip will be a unique experience towards a new life!
Clinic Dr. Marco Cassol
R. Padre João Manuel, 222
Conjunto 58 – Jardim Paulista, São Paulo – SP- Brazil